Join Susan Joachim, President of the International Nature and Forest Therapy Alliance (INFTA), and Founder of Shinrin-Yoku, Forest Therapy Australasia, on an exclusive Forest Therapy experience, to celebrate the arrival of spring on Thursday, September 1, National Wattle Day 2022 in the beautiful Geelong Botanic Gardens.
Bookings are now open via Eventbrite.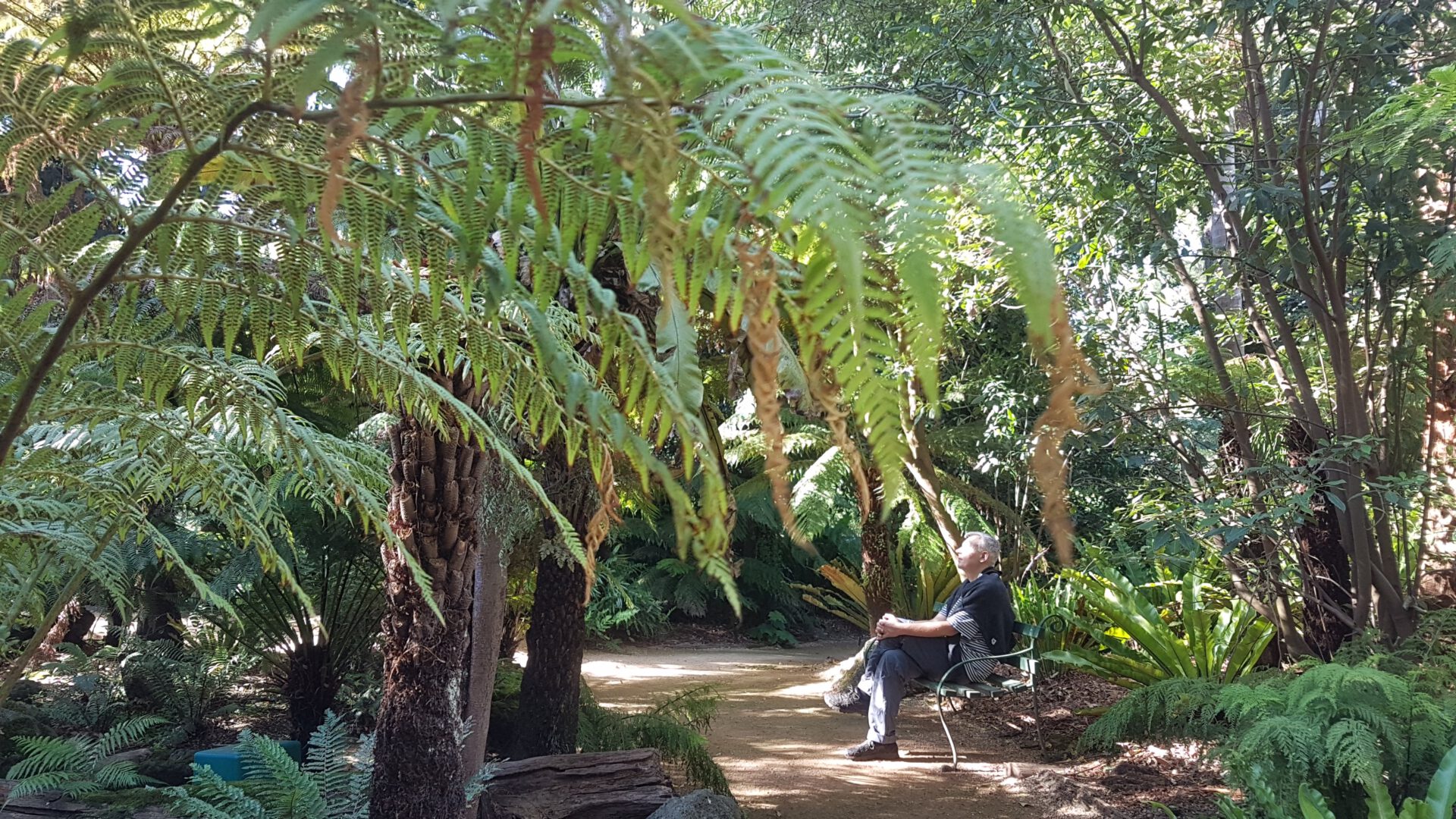 What is Forest Therapy?
The practice translates literally from Japanese "Shinrin-yoku" as "Forest Bathing" – immersing ourselves in the atmosphere of forests and other natural surroundings. "Forest Therapy" is now considered nature's remedy to stress and a pathway to a happier, healthier and more fulfilling life. The practice is backed by thorough medical and scientific research – and the plethora of health benefits are wide-reaching for all age groups.
What happens during a guided Forest Therapy session?
Susan will guide you on a relaxing and rejuvenating walk, with plenty of time to slow down and soak up the beauty of this enchanting garden, one of the best-kept secrets in the region. We'll see the emerging colours of spring among the lovely tree plant collections, as well as exciting new vistas as the leaves emerge. Forest Therapy walks take on a slow immersive pace, unlike a hike or botanical walk.
The Geelong Botanic Gardens provide a rich tapestry of sensory experiences that invite us into the moment. Over the three hours, your will spend some time walking at a leisurely pace, stopping and sitting. Usually, you would be in shade, but sometimes we may sit in an open space.
With a focus on slowing down, the guided walk encompasses a series of place-based activities on easeful nature trails, to help us relax, become present and deepen our connection to nature.
The experience invites room for listening, healing, reflection, for quiet, accepting presence, and for inquiry through all the senses.
There is no right or wrong way to participate in the activities, simply follow your intuition and curiosity to explore the natural surroundings.
The Forest Therapy experience concludes with a tea-sharing ceremony, inspired by the Japanese way of tea.
=====BOOKING CONDITIONS======
All attendees must comply with the latest VIC Public Health Order and State Government Guidelines regarding COVID-19 and distancing at the time of the booking taking place.
THINGS TO KNOW/BRING:
Please arrive by 9:45 am to fill out preliminary formalities. We will start the walk promptly at 10:00 am.
The event will go ahead even in rainy weather. However, if we need to cancel due to inclement weather, bush fires or notifications from council or parks authorities, participants will be notified on the morning by 9:00 am.
Phones and cameras should be turned off during the walk.
Small children and pets are not allowed on this guided session.
Toilets are available at the gardens.
The café is currently closed for renovations.
The length of the walk is nearly two kilometers at a slow pace, on natural formed trails and grassy areas.
Dress appropriately for the weather. Comfortable pants and layers work best in spring.
We recommend wearing closed, sturdy walking shoes.
Carry a day pack and bring a raincoat, drinking water, snacks, insect repellent and any essential personal medications.
You may like to bring something to sit on while on the walk, e.g., a stool, chair, or blanket.
How to get to the gardens:
Geelong Botanic Gardens is close to the Geelong Waterfront within Eastern Park. If using GPS the garden's entrance is at the intersection of Podbury Drive and Eastern Park Circuit
For further information about the venue, directions and car parking, please click here.
We look forward to seeing you there!
—————————————————————————————————————-
We Acknowledge the Wadawurrung People as the Traditional Owners of the Land, Waterways and Skies. We pay our respects to their Elders, past and present. We Acknowledge all Aboriginal and Torres Strait Islander people who are part of our Greater Geelong community today.