Forest Therapy. The Medicine of Being in the Forest.

The Japanese inspired practice of Shinrin-yoku fosters a deeper more intentional connection to our roots with nature and to ourselves. Shinrin-yoku, literally translated as immersing or being showered in the forest, is nature's invitation to disconnect from the urban-bound and technology-driven world to bathe in the healing atmosphere of the forest. We have extended the Japanese approach and adapted it to our Australian setting and biosphere where it is referred to as Forest Therapy.
Be guided on healthful, gentle walks in the forest as a core strategy for wellness. Take in your surroundings through your senses. No need to think or analyze, just relax and let your natural sense of enjoyment guide you. Your body, mind, and spirit will thank you for it.

"You didn't come into this world.
You came out of it, like a wave from the ocean.
You are not a stranger here."
-Alan Watts-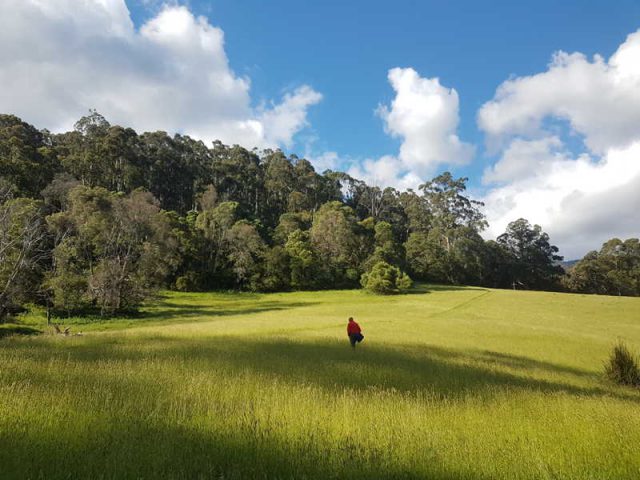 Every time I go for a Shinrin-yoku walk, I fall in love with the world again and you can, too! On a guided walk I will help you to reconnect and explore our relationship with nature and the planet on which we live.
Make contact with and take in the atmosphere of the forest
Appreciate the gift of being deeply and mindfully alive
Recalibrate the senses and experience deeper connections to nature
Observe the immense variations in colour and shapes around you
Listen to the sounds around you
Feel the slight breeze around you and detect the scents of nature
Walk meditatively, free from the digital word and screen time, modern-day stress and pressures
Take your time. Rest, listen, observe
Within a short time , you will experience just a few of the proven benefits of Shinrin-yoku:

Boosted immune system functioning

Reduced blood pressure


Improved mood with reduced stress and cortisol levels

Enhanced energy levels, mood and ability to focus

Improved sleep



Decrease in anxiety and depression
Increased ability to lose weight naturally
Opening our senses to nature also develops our intuition. We learn to connect in new ways to the world around us increasing our energy flow and our overall sense of happiness. Over the course of a Forest Therapy Guided Walk you'll experience a series of activities allowing you to experience nature as you never have before. As one outcome of these specific practices, we can learn from each other as we discuss what we are experiencing in connection with nature. This is the uniqueness of Forest Therapy.
Is a Forest Therapy walk physically demanding?
The key to Forest Therapy is not to cover a lot of kilometers, but to slowly walk with intention through the green space and take it all in. Our guided walks are designed to rediscover inner peace and harmony among the trees, soothed by the fragrances and sounds of nature. We have identified a number of beneficial staging points and places of rest, particularly for their environmental and landscape features.
Several botanic gardens across Australia offer Nature and Forest Therapy walks. Book through the gardens for regular public walks or contact the gardens directly for private group bookings.
Forest Therapy Guided Walks provide measurable mental health benefits. Studies have found that people who walked in a nature area for 90 minutes compared to participants strolling in a treeless urban area, had decreased activity in the brain associated with a key factor for depression. In case of obesity, Forest Therapy enhances your ability to lose weight significantly.
Nature, if listened to, can transmit enormous vital energy, which will be our companion in these woods, making us all smile. Thus, we invite and guide you to immerse yourself in a natural area, walk through it in a relaxed and mindful way, rejuvenating and achieving restorative benefits.