I haven't always managed my stress and more than not ignored the signs that my mind and body were trying to warn me about until I was completely depleted and burnt out. My job at the time was all consuming, I gave 110% to my special needs students and work colleagues. After work and on weekends were not down time, they were spent making resources, doing research, planning lessons, giving to my family along with the general household chores that we all have to do. I would literally push through the fatigue and just keep going. It got to the point where something had to give and it was my health and wellbeing that fall apart.
So after a lot and I do mean a lot ( over 18 months) of deep thinking and soul searching, I made the decision to resign from my job, a job I absolutely loved but I had nothing left to give and I had to do it for my over all health and wellbeing.
That's when I allowed nature in and it changed my life.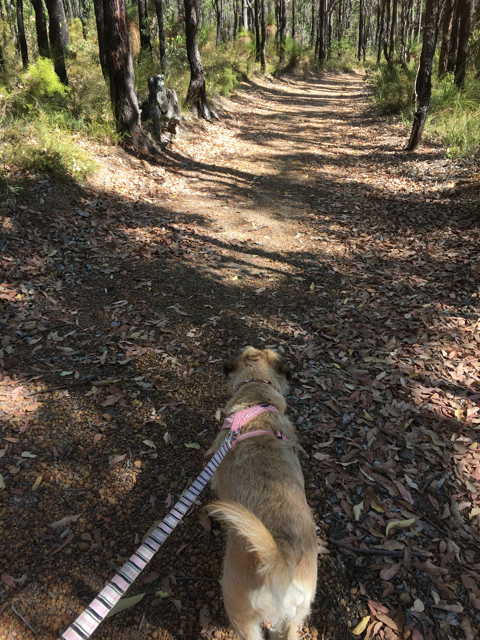 My Husband and sons gave me a puppy for my 50th birthday. I started taking her for little walks around our property and as she grew bigger and stronger we started going for longer walks in the nature reserve behind our property. At first I would rush through the walk with Ivy with my head still on the tasks I wanted to do and wasn't doing at home. It wasn't really enjoyable for either of us. So…… I started to make a conscious effort to slow the walk down, to take notice of my surroundings and focus on the present moment of what I could see, what I could hear, what I could smell. The first thing that really stood out was all the different shades of green, from bright lime green to a deep olive green, so many shades. Then it was the leaves on the plants and those that had fallen to the ground. So many different shapes, sizes and colours. Our walk each day became a time of mindfulness and calm. I not only looked forward to this each day, my wellbeing craved it. To be outside has become a need. I feel its calming influence, its healing power and notice when I haven't spent enough time out there.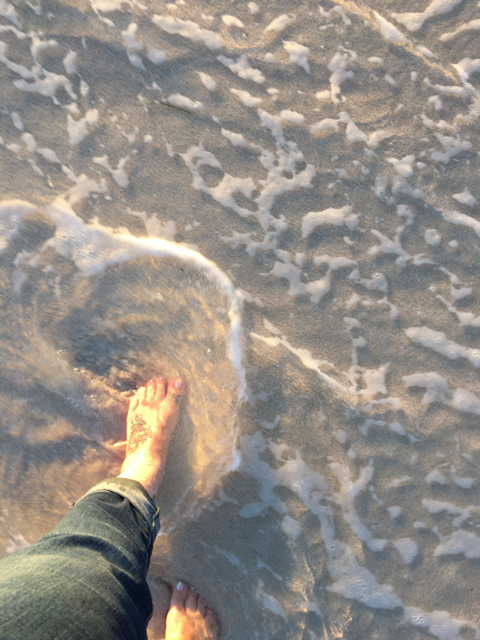 As I write this I'm sitting under a big Callistemon ( Bottle Brush) tree that I planted as a seedling over 30 years ago. My bare feet are resting on the grass and I can hear the breeze rustling the leaves of the trees, various bird calling out to each other. The odd Cicada is clicking away and the tinkling of some wind chimes can be heard. Just the simple act of sitting outside, taking off my shoes and connecting with the earth makes such a positive impact. Nature always continues to offer new things to notice as the seasons change, from the changing of colours, the smell of the first rains to the beautiful wildflowers at Springtime.
We have recently purchased a coastal property which was a dream of mine. I've always loved the beach and its a sanctuary for me. To walk along the waters edge, sink my feet deep into the sand, listen to the sounds of the waves, feel that fresh sea breeze on my face just fills my soul. Again noticing what I can see, hear, smell, taste and touch. Standing at the waters edge as the waves wash in and out over my feet is such a healing ritual.
My name is Tania, I live in the Perth Hills in Western Australia on a 5 acre tree filled property. I'm the owner of Wild Ivy Child Collective and Seaglass and Sol Coastal Retreat, both nature based small businesses promoting wellbeing and a slower, simpler life. I'm a Mum to two grown up sons and Grandma to our gorgeous little Grandson. Both my Husband and a Son run their businesses from home, so life can still be crazy busy but nature is always their to remind us to take a break, sit out in the garden to have that morning cup of coffee, take the dog on a bush walk, dip those feet into the ocean, walk barefoot on the lawn while you water the garden, get out and plant something. Be still, stop and just listen to the sounds around you and make it a part of your daily life. Slow down, keep it simple, get back to nature, live intentionally.
Written by
Tania Scott
Slower~Simpler~Nature
For every Wild Child regardless of age.
wildivychild.com.au