You can book your Forest Therapy event right here. Choose from the options and times available. You may also order a voucher if you want to give away a present. No matter what, you will receive an automated booking confirmation after you have submitted your booking. Please note our Terms & Conditions which includes our client-friendly cancellation policy.
Guided Forest Therapy Walks and Vouchers
We offer multiple events on selected days and times at different locations throughout the year – Public and private ones. Please choose your event or voucher, click on the link for more details and you will be referred automatically to our Eventbrite pages which show all relevant features and purchasing options. In case, an event is already booked out, please contact us for alternatives!
| EVENT | SPECIFICS | DETAILS AND BOOKING |
| --- | --- | --- |
| Guided Forest Therapy Walk, 2 hrs immersive walk | Royal Botanic Gardens Melbourne, Saturday 13 April 2019, 2 pm to 4 pm | book here |
| Guided Forest Therapy Walk, 2 hrs immersive walk | Royal Botanic Gardens Melbourne, Sunday 14 April 2019, 9.30 am to 11.30 am | book here |
| Guided Forest Therapy Walk, 2 hrs immersive walk | Royal Botanic Gardens Melbourne, Saturday 18 May 2019, 2 pm to 4 pm | book here |
| Guided Forest Therapy Walk, 2 hrs immersive walk | Royal Botanic Gardens Melbourne, Sunday 19 May 2019, 9.30 am to 11.30 am | book here |
| Guided Forest Therapy Walk, 3 hrs immersive walk | Wednesdays, Saturdays or Sundays | please see availability on event calendar below |
| Shinrin-yoku 森林浴-Inspired Guided Forest Therapy Walk (voucher) | valid until 31 Dec 2019 | DETAILS |
| | | |
If you have any questions, please do not hesitate to contact us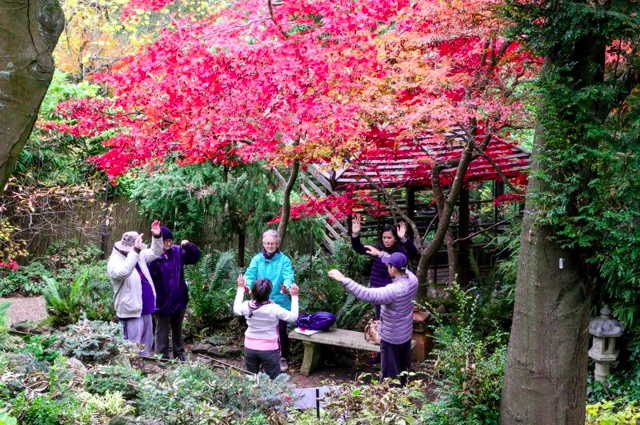 Shinrin-yoku at Forest Glades Gardens, Mt. Macedon, June 2017 (courtesy The Stokes Collection Limited)