Every weekend, I check out the best spots in close proximity to Melbourne for stressed-out city dwellers to escape to and experience forest bathing or 'taking in the medicine of the forest'.
Recently, as I drove through the beautiful Yarra Valley with my friend Richard, I realized how lucky we Melbournians are to have such lush forests in close proximity to the city.  Forest like these offer a wonderful healing experience – if only we visit more often!
And I've picked up some interesting facts to share:
The name Toolangi is an Aboriginal word meaning, in fact, tall trees.
The Toolangi Forest Discovery Centre is now open to the Public. Yay!
There are several local walking tracks in the area ideal for a forest therapy strolls; the Sculpture Trail, the Yea River Walk, and the Wirra Willa Rain Forest Walk.
Toolangi was the home of the poet C.J. Dennis, the author of The Songs of a Sentimental Bloke, Jim of the Hills, The Glugs of Gosh, Rose of Spadgers, The Singing Gardens and Ginger Mick, to name a few.
The 1.5 km Toolangi Sculpture Trail was created in 1996 by nine International and Australian artists. This November,  to celebrate its 20th anniversary, 15 artists from Victoria immerse themselves in the Toolangi Forest, to create site-specific artworks from natural materials provided by the forest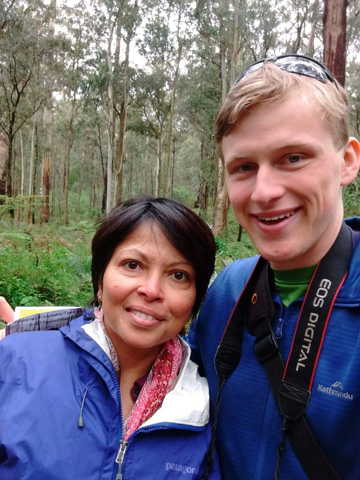 To experience a very relaxing and healing forest bathing experience, I would recommend parking at the Forest Discovery Center, and stepping inside to see the lovely works of art inspired by nature. Switch off your mobile ☺.
Then, step outside for a gentle stroll around the Toolangi Sculpture Trail. Stop to admire and read the history and story behind each ephemeral and permanent sculpture that reflects the artist's environmental concerns and explorations of nature.
The Yea River Walk opposite the center is ideal for a real forest immersion experience. It is an easy one-hour walk which passes through Messmate, Narrow Leafed Peppermint, Mountain Grey Gum forest and Mountain Ash forest. The Yea River is full of aquatic life including platypus and many fish species. The viewing platform provides an excellent vantage point to see the river.
It's so relaxing to walk at Toolangi State Forest. If you need to de-stress, get away from the hustle and bustle of Melbourne CBD or just need some time out to relax, please join me for a guided Forest Bathing Walk at the Toolangi Forest. If you like, please have a look when next we offer a guided walk at this magnificent and healthy natural environment and other locations close to Melbourne.